Industry associations urge EU to remove duty on Chinese steel fasteners
09-11-2017
BEIJING, Jan. 19 (Xinhua) -- Two Chinese industry associations on Tuesday called on the EU to uphold WTO rules and remove its anti-dumping duty on steel fasteners from China after the WTO ruled in favor of Chinese makers.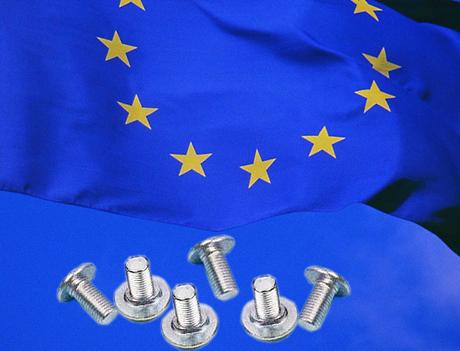 China Chamber of Commerce for Import and Export of Machinery and Electronic Products and China General Machine Components Industry Ass. made the joint statement after the WTO said that EU tariffs on fastener imports from China during the past years were illegal.
The EU imposed anti-dumping duty on Chinese fasteners in January 2009, prompting the Chinese government to file a complaint with the WTO, which ruled against aspects of the EU measures in 2011.
Although the EU reduced its levies to an average 54.1 percent in 2012 from 77.5 percent, the bloc has failed to make amends, prompting China to bring the case to the WTO again.
"If the EU does not withdraw the anti-dumping duty, the associations will ask the Chinese government to take further action according to WTO rules," the statement said.
Following the WTO ruling, the Ministry of Commerce on Monday said the anti-dumping measures had affected 1 billion U.S. dollars' worth of Chinese exports and more than 100,000 jobs in China, resulting in huge economic losses to the industry.
The ministry urged the EU to respect the latest ruling, "or China reserves the rights to take further action under the WTO framework".
The Anti-dumping fasteners inculding:
Security Screws, Assorted Kits, Screws, Non-standard Bolts & Screws, Structural Bolts, Serrated Hex Flange Screws,
SEMS Screws, Eye Screws, Jack Screws, Step Bolts, Carriage Bolts, Dowel Screws, Mating Screws, Stainless Steel J Bolts
Square Bend Bolt, Round Bend Bolt, Wire Form, Hot Forging Eye Bolts, Hex Socket Screws, Wing Screws, Weld Screws
Flange Nuts, Nylon Lock Nuts, Plain Washers, Spring Washers, Wood Screws, Machine Screws, Self Tapping Screws
Self Drilling Screws, Rivets, Pins, Auto Shafts, Thread Rods , Drywall Screws, Hex Flange Bolts, Various Head Type Bolts, Various Combination Screws, Assembled Bolts , Welding Bolt & Nuts, Rivets, Stud Bolts, Custom Specialty Bolts, Non-Standard Auto Fasteners ,Custom Automotive Components, Furniture Screw, Chipboard Screws, Nylon Anchor.
T Bolts, Socket Shoulder Screws, Plow Bolts, Sex Bolts, High Strength Bolts, Hexagon Bolts, Slotted Heax Bolt
Hex Fit Bolts, Anchor Bolts, Square Neck Bolts, Track Bolts, U Bolts, Dome Head Screws, Brass Bolts,
Flat Head Screws , Pan Head Screws , Csk Head Screws, Button Head Screws, Phillip Head Screws
Plastic Screws, Blind Bolts, Panel Screws, Piston Bolts, Bent Bolt, Ball Knobs, Set Screws, Thumb Screws
Butterfly Screws, Chrome Carriage Bolts, Customized Bolts, Foundation Bolts, Hub Mounting Bolts, Alloy Steel Bolt,
Carbon Steel Bolt , Stainless Steel Bolts, Aluminum Screws, Wheel Bolts Countersunk Nib Bolts, Plough Bolts ,POP Rivet, Drive Screws,
UNC, UNF, BSW, BSF, UNEF, Coarse Thread, Fine Thread,Class8.8 ,Class10.9,Class 12.9 ,Grade5 ,Grade8 ,Grade9, Grade 8.8 ,Grade10.9, Grade 12.9
Lexus, Buick, Toyota, Cadillac, Honda, Porsche, Lincoln, Mercedes-Benz,
Scion, Chevrolet, GMC, Acura, Nissan, Ram, Audi, Mazda, Mitsubishi, Infiniti
BMW, Industry Average, Subaru, Kia, Volkswagen, Chrysler, Volvo, Ford, Hyundai,
Dodge, MINI, Jeep, Land Rover, Fiat.