About 2018 China fastener market outlook Part Ⅱ
13-01-2018
Second, market segments
2018 Fastener industry development ideas should be from high-speed growth to high-quality growth, building to produce medium-precision, medium-strength products as the main body to high-end automotive fasteners, rail (locomotive) fasteners and construction , Power, electrical fasteners for the wing, the formation of "one body two wings" fastener production model; and strive for the development of a number of domestic brands of fasteners, the formation of relative cost advantages and relative technical advantages, bigger and bigger industrial chain , Forming a new point of economic growth.
2.1 automotive fastener market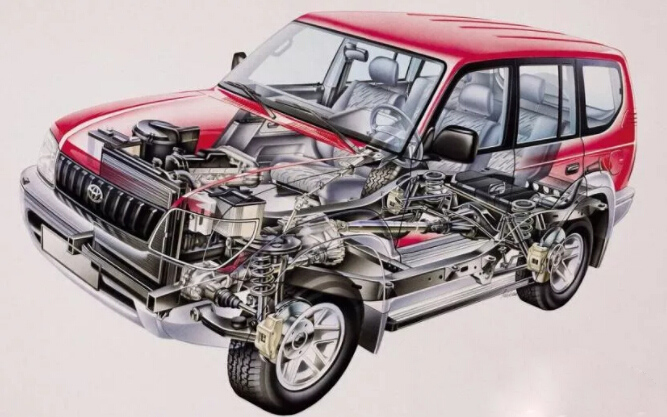 Automotive fasteners are parts that are used to fasten or connect two or more parts of a car. They are used to fasten and connect automobile parts, and their products are standardized and highly serialized. Commonly used thread fasteners mainly include hex head bolts, studs, screws, nuts, washers, has a wide range of markets.
Automotive fasteners come in different shapes, coatings and colors to meet the needs of the automotive fastener market. In the past decade, different companies have invested in the development of automotive fasteners, so presenting many high-quality automotive fasteners has contributed to the growth of the automotive fastener market. According to statistics, the auto market will keep growing at a rate of 3.5% ~ 5.0% by 2025. Therefore, with the increase of automobiles, the sales volume of auto fasteners will also increase.
Car fasteners are small parts, a wide variety, mainly divided into four categories, including standard fasteners, non-standard fasteners, standard mechanical components and non-standard mechanical components, including non-standard fasteners the highest quality requirements. Non-standard fasteners, such as automotive engine connecting rod bolts, flywheel bolts, wheel bolts, hanging bolts due to its high quality and good stability, our country can not fully meet the localization requirements, but also dependent on imports. Fasteners are the most important product line in the automotive industry. Fasteners have benefited from the increased use of fasteners in the automotive, mechanical, electrical and construction industries. Although the car in the domestic market growth, but still facing major challenges in car distribution.
There are difficulties in car distribution, but auto repair (including auto financing, car repair beauty and used cars) has shown a high profitability. However, the characteristics of car fasteners are easily damaged, so that users can easily buy fasteners To replace and promote the automotive fastener maintenance market. However, Riveting screws, rivet nuts and welding can replace the rapid development of threaded fasteners products, will also promote the automotive fastener market.
During the "13th Five-Year Plan" period, the rapid development of the automobile enterprises in China including FAW-Volkswagen, Shanghai GM, Dongfeng Beverly, Guangzhou Honda, Chery, Geely, Lifan, BYD and others will surely bring the automobile fasteners The rapid development.
In October 2016, China Society of Automotive Engineers released the Roadmap for Energy-saving and New Energy Vehicles, which mainly put forward the technologies of energy-saving and new energy vehicles. In 2016, the total output of new energy vehicles in China reached 516,000 units, and the output was 90% In the top 10 enterprises, Beijing Automotive and BYD each account for 20%. In the mid-to-long term development plan for the automobile industry, jointly issued by the Ministry of Industry and Information Technology, the NDRC and the Ministry of Science and Technology at the end of April 2017, a warning about the risk of overcapacity has emerged. In addition to the problem of overcapacity, large domestic brands are moving from relatively Small brands in the hands of market share factors.
Since in many cases many phenomena occur with no precursor to foreigners and can not refer to foreign cases, just like predicting an unstable weather pattern, it is very difficult to accurately judge the development direction of China's automobile market. China Association of Automobile Manufacturers expected vehicle sales to reach 35 million units by 2025, and hopes new energy vehicles can account for at least 1/5 of the total.
According to the different car models, the consumption of automotive fasteners are also different, the average number of 5000 to 7000, assuming about 6000, according to 2017 China's automobile production increased by about 6% over the previous year momentum is expected to produce sales Reaching more than 30 million, annual demand for automotive fasteners is about 860000 -920000 tons. China's automobile fasteners manufacturing enterprises about 100 scale, their production of automotive fasteners to standard fasteners led, and the annual sales of less than 700,000 tons, for non-standard fasteners, standard mechanical components and non-standard machinery Components R & D strength is still very lack of demand for automotive non-standard fasteners larger market is the "short board" products, need to step up efforts to develop in order to adapt to 2018 cars in 30 million on the basis of production and marketing increased by about 3% The plan, car fasteners are also growing simultaneously.